News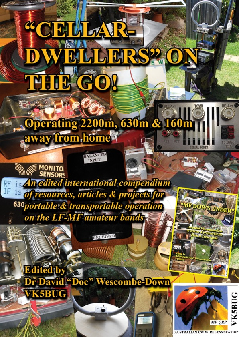 Around mid-last year VK5BUG's first multi-author volume, "MF Down Under" an edited VK-compendium of articles and projects for the 630 & 160 m bands was released: 344 x A4 pages, nine chapters, 44 articles from 15 authors.

Now Doc is pleased to advise you that its sequel and companion text "Cellar-Dwellers on the go!" an edited international compendium of resources, articles & projects for portable and transportable operation on the LF & MF amateur bands, is currently with the printer & is scheduled for launch/release at the 2017 Wireless Institute of Australia AGM on 20 May in Hahndorf, South Australia.

The covers of both productions set their scenes and together provide almost 600 pages (586) of LF-MF amateur radio material for interested enthusiasts, with your website material being actively promoted within the contents.

This latest work embraces 242 x A4 pages, 15 chapters, 12 authors, has a travel weight of 700g (approx), lots & lots of resources, links, shared info, projects, hints, some VK commercial supplier information, Low Bands DX-peditions etc.
Interested parties may contact Doc, VK5BUG at

.
Last changed: Apr 05 2017 at 7:26 AM
Back