News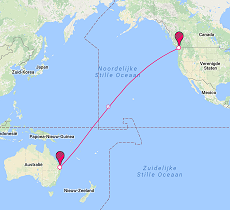 On September 15th Roger, VK4YB, and Steve, VE7SL, successfully completed a two-way JT9 QSO after a few previous attempts. With a distance of 11802 km, this QSO is believed to be the longest two-way QSO ever completed under amateur service rules on 630 meter.
Steve will be posting details to his blog in the coming days, which can be found at ve7sl.blogspot.ca. Details and screen captures are available now in KB5NJD's report, posted at http://njdtechnologies.net/091516/.
Congrats to Steve and Roger. This is monumental event in medium wave amateur radio history.
Info: KB5NJD
Last changed: Dec 30 2016 at 8:29 PM
Back